carnatic.com
>
Karmasaya
>
weblog
> Weblog2001November
2001October : Previous < < < Weblog2001November > > > Next : Weblog2001December
30
Zen and the Art of Motorcycle Maintenance
Buddha : Monks and scholars must not accept my words out of respect, but must analyze them the way a goldsmith analyzes-gold by cutting, scraping, rubbing, melting.
(via PaperQuote) Ralph Waldo Emerson : Never lose an opportunity of seeing anything that is beautiful; for beauty is God's handwriting.
29
Fink wants to bring more Unix software to Mac OS X. Goal number one is porting software to Mac OS X. Goal number two is making the results available to casual users.
Both Goals are accomplished very well... I installed Fink and later installed Lynx... Many websites look funny via Lynx
(via Gleanings) The emergent new order : Feed magazine founder Steven Johnson? explains how self-organizing systems are made to order for ants, cities, software and terrorists.
Romy and Lisa's Quotes and Poems
Cicero : The Six Mistakes of Man
28
A Petition : 93rd amendment - Making Education a Fundamental Right in India
(via PaperQuote) Oliver Wendell Holmes : What lies behind us and what lies before us are tiny matters compared to what lies within us.
Ralph Waldo Emerson : Always do what you are afraid to do !
Fun Facts about Happy Birthday to You
27
Jutta Degener's Objective : To do spectacular and impossible things.
Value of the Neem leaf
Health Education Library for People
26
Peter Coad : Feature Driven Development
Unified Modeling Language , Three Amigos
We went to Salzburg for the weekend. We will go again in Spring, Summer or Autumn and we have learnt some valuable lessons about Winter, Snow etc. !
We stayed at Pension Bloberger Hof
Eric Steven Raymond's Writings
The Cathedral and the Bazaar : ...Every good work of software starts by scratching a developer's personal itch...
As per Peter Russell's Age in Days : I am 10959 days old !
Wayne Dyer : Have you really lived 10,000 or more days, or have you lived one day 10,000 or more times?
Gerald M. Weinberg's book The Psychology of Computer Programming
23
Mother Teresa : The minute you begin to do what you want to do, it's really a different kind of life.
FranklinCovey : FranklinCovey Articles FranklinCovey Knowledge Expo
Cyndi Seidler's Articles on Organising
Gerard M Blair's Basic Management Skills
Mira Art : Not being attached to anything.... : "...All in the world recognise the beautiful as beautiful. Herein lies ugliness..."
Today is Buy Nothing Day
The beasts in a man
22
Allen Downey's How to Think Like a Computer Scientist
Guido van Rossum's Computer Programming for Everybody
I have come across Tom Van Vleck's Software Engineering once again after a long time :-)
21
(via Mahesh Shantaram) Carlton Vogt's Ethics Matters
Gen. Wayne Downing is a quiet professional !
(via PaperQuote)Albert Einstein : The World is not dangerous because of those who do harm but because of those who look at it without doing anything.
Today is Sri Skanda Sashti - Kanta Shasti Vratam
Patrick David Harrigan seems to be the lead maintainer of Murugan Bhakti - Great Work
A Question : IF it was only possible to browse 1 site in the future... What would it be ?
My answer of the moment :-) Murugan Bhakti
Thomas Paine in The Age of Reason : It is necessary to the happiness of man that he be mentally faithful to himself. Infidelity does not consist in believing, or in disbelieving, it consists in professing to believe what one does not believe.
20
After reading Andre Durand's Global Consciousness 1.0, I have an idea about combining this thought with Quakerism... Why not we implement a system where members can raise 1 issue per day and only 1 a day, Every other member can post their opinion after careful thought and it would be possible to edit the opinion only a few times within the next 1/2 hour ! and That's it ! - I will try to refine it !
Amy Wohl has a weblog
(via Doc Searls) November 23rd is Buy Nothing Day , Clay Shirky needs a blog !
Charles du Bois : The important thing is this: To be able at any moment to sacrifice what we are for what we could become.
19
Vikas Kamat's Kamat AnthoBLOGy
Vikas' How to Pick a Saree will be useful to me !
John Taylor Gatto's writing on the web
(via Oliver Wrede) Steve Hooker : Radio(Userland) and me
Jonathan Wallace maintains The Ethical Spectacle
A hypocrite is a person who professes beliefs and opinions that they do not hold
Ralph Waldo Emerson : "Shall I tell you the secret of the true scholar? It is this: Every man I meet is my master in some point, and in that I learn of him."
Mother : Always remember to love thy mother, because you only have one mother in your lifetime... I would replace mother with parents...
Stephen Hawking in A Brief History of Time : As we shall see, the concept of time has no meaning before the beginning of the universe. This was first pointed out by St. Augustine. When asked: What did God do before he created the universe? Augustine didn't reply: He was preparing Hell for people who asked such questions. Instead, he said that time was a property of the universe that God created, and that time did not exist before the beginning of the universe.
Once again, I have started reading Bhagavad Gita daily...
Lagaan seems to be a must see movie...
World AIDS Day is on December 1st
18
We went to Dachau today to visit the Dachau Concentration Camp Memorial Site.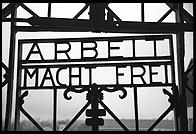 The sign of the gate is Arbeit Macht Frei (Work Brings Freedom)
Later we went to Munich and waited in the Marienplatz for the Glockenspiel im Rathausturm. But, in winter, it only happens once a day at 11AM !
Dinner at Sausalitos Im Tal, Munich
17
Madhu Menon : Conditional philanthropy - it stinks
16
Bruce Eckel has made available many books online ! - Great !
Joel Spolsky : It's about time that I updated my crufty old list of recommended books. What books should I have up there? - Vote for ONE Book
Jeremy Stangroom is the on-line editor for The Philosopher's Magazine
Tim Pozar : One of my main "themes" in life is to give tools to the world that help them express their ideas. I have this rather utopian idea that if everyone has the tools to exchange ideas then the world will be a better place.
Author Unknown : To the world you might be one person, but to one person you might be the world.
15
Kalpana Mohan : I live in a place where a million dollars is loose change for most people. I live in a place where people lease Mercs while they await their Porsches. It's a place where every minuscule movement of the NASDAQ rumbles into a seismological event. A place where deals are made - to be broken when options vest...
Peter J. Denning's new book is The Invisible Future: The Seamless Integration of Technology into Everyday Life
Susan Dempsey (responsible for providing users with continued quality service from HotLinks) : ...Sadly, all good things must come to an end and this version will be subscription only...
HotLinks is going to charge for their service from 3rd December 2001... If they allow me to maintain 1 URL with multiple categories, I will consider paying for their service... Anyway, they have very nicely allowed me to export the content as a html file - Thanks a lot !
I sent an email to Jonathan Abrams several months ago and he prompty responded by stating that 'the request will be forwarded to Development' - Let us see...
How to Prepare an Effective Resume
Viktor Frankl : Everything can be taken from a man but one thing: the last of the human freedoms — to choose one's attitude in any given set of circumstances, to choose one's own way.
14
Free Alina Lebedeva : ...This site is in support of Alina Lebedeva from Latvia. Alina is the schoolgirl who gave Prince Charles a slap in the face with  a bunch of flowers in protest over Britain's involvement in the war against Afghanistan. She is provisionally charged with endangering the life of foreign dignitary. If found guilty she could face up to 15 years in prison...
Ramayan Audio : ...The Ramayana was meant to be heard!...
Today is yet another Deepavali away from India...
Satya Viswanathan : Ho! I went to America
13
George Orwell : Politics and the English Language
Sita Ram Goel : How I became a Hindu
On Monday, November 12, 2001, at 11:54 pm Our Beloved Satguru Sivaya Subramuniyaswami (Gurudeva) Attained his Mahasamadhi, Great Union, On the island of Kauai .
Mira Art quotes Mark Twain : Always do right. That will gratify some of the people, and astonish the rest.
Shoba Narayan : Fashionably Devout
Ken Coar is a Sanagendamgagwedweinini ! --- click on the name to know the meaning :-)
e-gineer.com is interesting... --- Nathan Wallace
Joel on Software sports a new look
12
Bill Clinton : A struggle for the soul of the 21st century
Richard Fritzson reacts to article Study of Disputed Florida Ballots Finds Justices Did Not Cast the Deciding Vote by starting 'This is a pretty outrageous headline for this story.'
This Diwali has lost its sparkle : ...Sampoorna Kohli, weaving his way through the small lanes of the Central Market in Lajpat Nagar, sums it up succinctly: "There is uncertainty for everyone. Nobody is feeling particularly festive what with jobs on the line and businesses doing badly. The light has already gone out of this Diwali."...
Eric Margolis : ANTHRAX AND ABDUL HAQ: WHAT GOES AROUND, COMES AROUND
11
Lee Iacocca, Avul Pakir Jainulabdeen Abdul Kalam, JRD Tata, KJ Yesudas, Mother Teresa
Sri Chandrasekharendra Saraswathi : 50 Divine Thoughts
We and Chandramouli Mahadevan went to Linderhof today
A nice picture taken by Mouli at Keukenhof
10
Swami Sivananda : From ABANDON BODY-CONSCIOUSNESS : ...This body which is full of impurities, urine, pus and faecal matter etc., is perishable. It is like froth or bubble or mirage. It is despised by its enemies. It remains like a useless log of wood on the ground when prana (life) leaves it. It is the cause of pain and suffering. It is your enemy. You should treat this body with contempt, as dung. Why should you cling to it and worship it with scents, powders and flowers? Do not be silly and foolish in adorning it with fine silks and ornaments. It is dire ignorance only...
Alwin Hawkins : New tag line and the cornerstone of a new ethic for me. : Work, Don't Whine
Doug Baron: "I'm part of the Userland team now."
09
Joel Snyder ( commenting on an article about Bin Laden's family members leaving the USA : ...This whole article is offensive and the worst sort of journalistic sensationalism...
Freeman Thomas, head of advanced product design for DaimlerChrysler : "A lot of people in the design business are full of BS. They want to create the facade of an extreme individual. I don't want to be someone who can't be approached."
Fast Company's Who's Fast 2002 : ...Ordinary people doing extraordinary things. Our fourth-annual Who's Fast issue arrives at a time when our feelings about work, life, business, and purpose need thoughtful recalibration...
Usha Balakrishnan's Birthday
Doc Searls is Diggin' Andre Durand
Deepavali is on the 14th this year. Anyway...
08
I have started collecting Cool Tools
William Damon coauthor of Good Work : "We're getting people to overcome the sense that to have a good career, you've got to compromise or cut corners, that you've got to go along to get along. We think that's bad advice."
07
via Susan A. Kitchens : Laid-Off
Deepavali is on 14th November
06
Vincent Laforet : Frontiers of War
via Jim Roepcke : Seth Dillingham : Knowledge Management, Meta Data, and the Organization
Try this : add mama_pendse to your Yahoo Messenger and send message 'help'
05
Mentors?
Lotus Ayurvedic Garden, Heidelberg, Germany
Mira Art : ...I never liked it, feeling the hypocrisy...
04
Chandramouli Mahadevan is in Germany. Welcome back !
03
I hurt myself yesterday while playing badminton... Nothing Serious... But I am thinking about Relative and Absolute Happiness and about people who are handicapped
02
Two unpublished letters of Swami Vivekananda
Mahesh Shantaram is an Indian Blogger...
01
In You already know what to do : ...In the early nineteenth century, when writer Samuel Taylor Coleridge awoke with the "distinct recollection of the whole" of "Kubla Khan", he demonstrated the effectiveness of intuition... When business man Jagdish Parikh speaks of creating a "synthesis...beyond selfishness and selflessness, beyond collectiveness and competitiveness, to a cooperativeness based on selfness," he is calling on intuition...
2001October : Previous < < < Weblog2001November > > > Next : Weblog2001December
---
Categories : ( ProfitableOccupation )
FindPage or view Recent & Popular
(last edited December 31, 2001 by Kishore Balakrishnan - @bekishore - Contact for feedback and suggestions) [info] [diff] [full] EditText of this page