Since I invested in the N73 recently, I have been looking for good files to listen during the daily commute..
Had heard Paul Graham on IT Conversations and went there looking for the popular ones and found "Higest Rated" on the left menu..
The first one was Steve Wozniak.. I found the following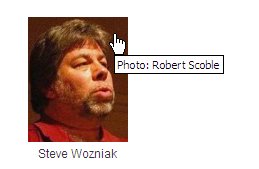 Whose picture is it

Experiment: Am not going to contact itconversations about this. Usually I do write to the website on seeing such issues. I have tagged the post with freedback and itconversations. Let us see when they get/fix it !
btw: does HP have ethical problem ? if the person at the top in a company has ethical problems, should the company be blamed and how much ?